National Parks on the Air

Throughout 2016, Amateur Radio will be helping the National Park Service celebrate their 100th anniversary. Hams from across the country will activate NPS units, promote the National Park Service and showcase Amateur Radio to the public.
NPOTA certificates are now available!

Click on the certificate image for a larger view.

Chaser certificates show the number of NPOTA units you confirmed in 2016.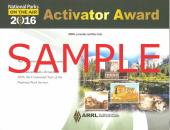 Activator certificates show the number of NPOTA activations you made in 2016.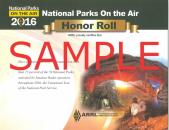 NPOTA Honor Roll is available for Chasers who confirmed at least 41 of the 59 bona fide National Park units (NP01-NP59) in 2016.
Each certificate is $19, which includes all shipping charges worldwide.
Rules

Complete rules for Activators and Chasers in the National Parks on the Air event. Go Now

FAQ

Answers to basic questions about NPOTA. This page will be updated throughout the year. Go Now

List of NPOTA Units

A simple list of all eligible NPOTA units. A more comprehensive list may be found in the Leader Board section. Go Now

Multiple Units List

In some cases, it is possible to activate more than one unit simultaneously. Here's the list of known NPOTA unit combinations. Go Now

Activator Tips and NPS Forms

Tips from Activators, plus park-specific forms from NPS units themselves. Have a tip? Share it with other activators here. Go Now

NPOTA Merchandise

Show off your pride in ARRL and the National Parks! A wide variety of NPOTA merchandise to choose from. Go Now

NPOTA Documents

Links to the Activators Guide, NPOTA logos, and other documents. Go Now

NPOTA on Social Media

Share your NPOTA stories and photos online through ARRL social media! Go Now

For NPS Employees

Answers to basic questions about Amateur Radio and the NPOTA program, geared toward NPS employees. Go Now

Latest News

Click here for the latest news and updates on the NPOTA program Go Now

NPOTA Photo Contest

Every month, we'll pick a photo of an NPOTA activation to highlight in QST! Go Now